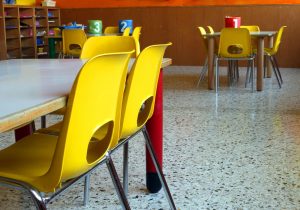 The childcare situation was bad before the COVID-19 pandemic and now it's worse.
Nearly half of the licensed child care facilities in the state have closed. If the state is going to pull off a successful reopening of the economy, many workers are going to need childcare. How is the state going to ensure they have it?
The state does have $23 million in CARES Act funding to distribute to childcare businesses, as OPB reported. Gov. Kate Brown also directed the Oregon Department of Human Services and Early Learning Division to adjust eligibility for child care benefits and to expand access.
Those things will help. But there weren't enough childcare slots in the state to begin with to meet the need. For instance, less than half the desired slots have been available in Bend or Deschutes County. And there have generally been two types of childcare businesses — those with razor-thin margins and those with scalpel-thin margins. The costs of keeping a childcare business open in the crisis have only gone up. To practice some level of distancing, many can only keep fewer children. Cleaning costs have risen. Workers need protective equipment and may not feel safe returning to work.
If there is good news, Central Oregon may be in a better place to bounce back. Before the pandemic, organizations across Central Oregon unified to plan for improving childcare. Central Oregon chambers, Gov. Brown's Regional Solutions team, Better Together, The Early Learning Hub, NeighborImpact, Central Oregon Health Council, TRACES, OSU and COCC created a Central Oregon child care accelerator position to create and preserve more spots. Several local governments have already looked at their regulations to see if they could be adjusted to make it easier for childcare businesses to open or stay open.
There was a failure before the crisis to provide sufficient safe, affordable and quality child care. No miraculous solution is poised to spring forth. It will be a siege. Legislators, local governments and businesses must keep seeking ways to help.