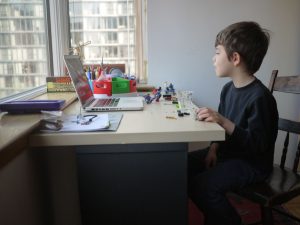 Peppa Pig and Daniel Tiger's Neighborhood might already be your kids' quarantine favorites, but sometimes they might need an extra education boost.
These YouTube channels offer free online lessons in music, dance, math, reading, and more for toddlers, preschoolers, and kindergarteners. For this educational coronavirus resource list, we focused on channels with full-length, focused classes (at least 15 minutes, with most clocking in at 30 minutes and some over an hour-long) rather than short snippets of stand-alone songs.
The Learning Station
The Learning Station, best known for its movement-based Brain Breaks series and kid-friendly music videos, has been uploading free daily online classes for kids during the COVID-19 pandemic. Each "virtual classroom" lesson includes movement, a few basic educational concepts, songs, and storytime.
These videos are perfect if you need to get a break from homeschooling or playing in order to clean up or work a bit. Or, they can be used to help your child's brain "wake up" in the morning or to help them get a physically active break between more formal learning sessions.
Songs For Littles
Is your baby or toddler missing their usual mommy- or daddy-and-me music class due to social distancing? Songs for Littles has several full-length kids' music classes that infants, toddlers, and preschoolers will enjoy. The free classes include interactive action/movement songs, sign language basics, and nursery rhymes, all of which can help your child learn about rhythm and coordination.
SamCam
Since the beginning of the coronavirus outbreak, SamCam's Dance Studio has been sharing free online dance classes for toddlers, preschoolers, kindergarteners, and elementary-aged kids.
Kids can follow along to Moana– and Frozen-themed dance routines, learn ballet or hip hop basics, or just incorporate some music and movement into their day.
Preschool Prep Company
Preschool Prep Company's free online lessons are perfect for homeschooling during the coronavirus outbreak, especially if you're looking for lengthier educational content. Many of the recently uploaded lessons are 30 minutes to two hours long, making these videos some of the longest free classes available online.
Shorter lessons cover fundamental concepts like phonics, shapes, colors, numbers, and basic Spanish. Many of the longer lessons for older kids cover more advanced reading and math topics, like addition, subtraction, multiplication, division, sight words, and digraphs. If you're not sure how to begin homeschooling while quarantined, this channel can give you an easy head start.
Homeschool Pop
Homeschool Pop offers longer educational videos than almost any other homeschooling YouTube channel. From a primer on U.S. national landmarks to a breakdown of the major figures in the civil rights movement and animated lessons on basic math and science topics, you can probably find a video about it on this popular channel.
For young learners, there are plenty of videos on "fundamentals" and the building blocks of education.
Toddler Fun Learning
For early childhood learners and their parents, Toddler Fun Learning is a popular educational YouTube channel. Each 20- to 30-minute video lesson uses animation and music to teach important concepts, like numbers and counting, reading the clock, animal names, colors, and the alphabet.
The lessons are unique in that they offer kids a chance to practice the skills they learn through interactive repetition, rather than allowing little ones to sit back passively.
If your little one likes vehicles, check out the Gecko's Real Vehicle series. Each one introduces a different vehicle—from garbage trucks and ice cream trucks to excavators and London tour buses—and takes kids on a guided tour.