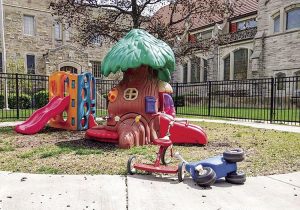 Daycares, at a premium in Kansas in non-pandemic times, are essential businesses that can stay open while the state is under a stay-at-home order. Overall, they're seeing a drop in the number of kids who show up but want to be there for health care workers.
"The nurses. The doctors. Everybody on the frontlines," Phillipsburg Child Care Center program director Brooke Feik said. "They need somewhere to take their kiddos."
Meanwhile, some parents who are at home due to social distancing or climbing unemployment are keeping their kids with them while still paying to keep their daycare spots for when the virus lifts. And about 7% of Kansas daycares decided it was too risky to stay open, especially with a combination of hygiene-oblivious toddlers and a shortage of cleaning supplies.
The biggest competition to child care facilities during the pandemic: friends, family, and neighbors. With plenty of Kansans stuck home, they have free time to watch each other's kids.
"If you know that your neighbor is also home cause she's a school teacher, you might approach her and say 'Hey, can you watch your children Monday, Wednesday, Friday? I'll watch your children on Tuesday, Thursday,'" said Leadell Ediger, executive director of Child Care Aware of Kansas, which runs the state's child care referral network.
According to a last year's child care state report, 77% of Kansas counties had fewer than one child care spot per 10 toddlers, and there were 10% fewer child care programs in the state than two years prior.
But while attendance at child care has dropped, enrollment has not. Daycare providers say many parents continue to write the tuition checks, figuring it's better to pay for unused child care than give up one of the state's limited number of spots.
"If we had several people coming in looking for care next week and you didn't have that spot held for your child, we wouldn't necessarily have a spot for them," said Jaime Noone, a teacher at Logan ABC Community Day Care Center.
The practical advice for preventing the spread of the coronavirus is easy — wash your hands, stay six feet away from other people, don't touch your face. But try giving it to a three-year-old.
Kansas provides some social distancing guidelines for child care centers, like no more than 10 kids in a group, not mixing the group and keeping employees with the same group.
Providers say that's not too different from what they already have to do to keep their licenses, but they also say keeping kids six feet apart is unrealistic when they're just learning what personal space means.
"We are doing everything we can to space children, but the reality of children is that's not a feasible task," said Emily Barnes, who operates Barnes Childcare in Olathe.
Instead, daycare providers take kids' temperatures before they come inside. The parents stay outside. One center has the fingerprint scanner that parents have to use when dropping off their kids each day, and it's cleaned constantly.
There's also a lot of hand-washing — a lot. At one center, kids have to each time they touch their face.
But like a lot of places right now, it's hard to find cleaning supplies, thermometers, and disposable thermometer covers. About 7% of child care providers in the state closed their doors since mid-March, mostly to stop the spread of the virus, according to Child Care Aware of Kansas.
The parents who still need daycare services are often those who can't stay at home.
Kerri Burr usually drops her 3-year-old daughter off at a Wichita daycare. Burr has worked at home for a while, writing grants for a nonprofit, but her husband still goes in for his job at a car dealership.
All four of their kids are now at home because schools are closed, and she works at night so her husband can be on parenting duty.
She said it would have been easier to keep sending her daughter to daycare, but she didn't want to be a vector.
"It's hard for me to have everyone home but I don't have to wonder if we're spreading something around to somebody whose body can't handle it or fight it off," Burr said.